Medical writing involves the development and production of print or digital documents that deal specifically with medicine or health care. The profession of medical writing calls for knowledge in both writing and science, combining a writer's creative talent with the rigor and detail of research and the scientific process.
With the constant advancement and innovation in medicine and health care, the need to communicate about research findings, products, devices, and services is growing. Medical writers are increasingly in demand to convey new information to health care professionals as well as the general public.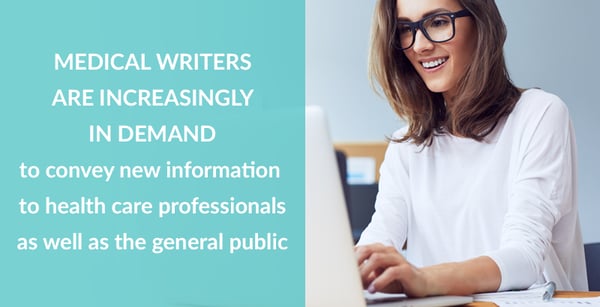 Depending on their position and the scope of their duties, medical writers are involved in communicating scientific and clinical data to many audiences, from doctors and nurses to insurance adjusters and patients. They work in a variety of formats, including traditional print publications to electronic publications, multimedia presentations, videos, podcasts, website content, and social media sites.
Medical writers often work with doctors, scientists, and other subject matter experts (SMEs) to create documents that describe research results, product use, and other medical information. They also ensure that documents comply with regulatory, publication, or other guidelines in terms of content, format, and structure.
Medical writers are also key players in developing applications for mobile devices that are used in multiple ways, such as
Disease management
Continuing education and training
Medical reference and information-gathering
Practice management and monitoring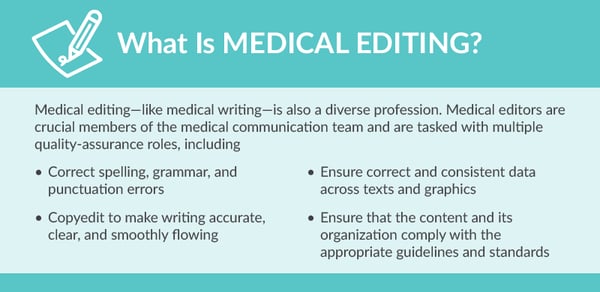 Medical communicators may be writers, editors, health care journalists, supervisors, project managers, media relations specialists, educators, and more. At their core, they are exceptionally skilled at gathering, organizing, interpreting, evaluating, and presenting often complex information to health care professionals, a public audience, or industry professionals such as hospital purchasers, manufacturers and users of medical devices, pharmaceutical sales representatives, members of the insurance industry, and public policy officials. For each of these audiences, the language, documents, and deliverables are distinct.